Islamisk litteratur om miljøbeskyttelse:
Nedenstående er et udvalg af bøger og anden litteratur, der behandler emner som miljø, dyrevelfærd, vand og klimaforandringer set fra en islamisk synsvinkel. Klik på bøgerne for at læse mere eller bestil gennem de danske, islamiske boghandlere til højre. Der findes desværre ikke meget litteratur på området endnu, og slet ikke på dansk. Skulle du kende til litteratur om emnet, så mail gerne til info@ggislam.dk.
Animal Welfare in Islam
Animal Welfare in Islam attempts to bring out the kind and compassionate Islamic teachings regarding animal welfare. The Islamic instruction and guidance on animals' needs and man's obligations concerning animals is so comprehensive that Muslims need not go elsewhere for any guidance
Af: Al-Hafiz Basheer Ahmad Masri
ISBN:9780860375951
The Islamic Foundation, Leicester UK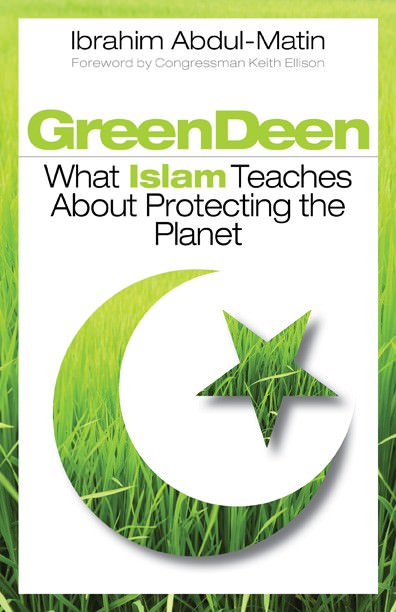 Green Deen: What Islam Teaches about Protecting the Planet
If we all hope to save our planet and build stronger interfaith and secular relationships, Abdul-Matin argues, Muslims need to remember they have a history of a green deen, and the rest of us need to build community with eco-friendly Muslims.
Af: Ibrahim Abdul-Matin
ISBN:9781605094649
Berrett-Koehler, USA, 2010
Islam and the Environmental Crisis
The destruction of the environment is a serious problem of our time and one to which only Islam holds the answer. The author takes us through the seriousness of the environmental issue and argues in support of Islam's position in relation to the environment, which is a trust to mankind from Allah (swt).
Af: Akhtarudin Ahmed
ISBN:9781897940662
TAHA Publishers, UK
Islam and the Environment
"…I hope, insha' Allah, this book will scatter seeds from which many other studies and projects will grow, whether environmental projects started by Muslims or in collaboration with non-Muslims, discussions in study circles, or with non-Muslim environmentalist, planners, financiers and economists. Islam has a positive contribution to make, if only people can understand.
Af: Harfiyah Abdel Haleem
ISBN:1897940823
TAHA Publishers, UK
The Environmental Dimensions of Islam
This book provides a much needed Islamic input into the world-wide process of consultation on the future of the planet. Dr Izzi Dien views the topic from historical, theological, philosophical, legal and ethical perspectives, examining such aspects as the Quranic doctrine of Creation, human responsibility and the actions of governments.
Af: Mawil Izzi Dien
ISBN:978-0718829605
Lutterworth Press, UK
Islam and Ecology
Islam is the religion of over one billion people and is practiced in virtually every country on earth. The articulation of an Islamic environmental ethic in contemporary terms is all the more urgent because Western-style conservation efforts do not fit all cultural and philosophical traditions. This volume outlines the Islamic view of the cosmic order and reviews the ways an Islamic world view can be interpreted, reassessed, and applied to such environmental problems as pollution and water scarcity.
Redigeret af: Richard C. Foltz
ISBN:978-0-945454-40-3
Center for the Study of World Religions
Water Management in Islam
This volume presents Islamic perspectives on a number of proposed water-management policies, including water demand management, wastewater reuse, and higher tariffs. The book opens avenues for a wider dialogue amongst researchers working at identifying the most promising water management policies, adds to our knowledge of some of the influences on formal policy and informal practices, and makes these ideals available to a broader public.
Redigeret af: Naser I. Faruqui, Asit K.Biswas og Murad J.Bino
ISBN:978-9280810363
Tokyo, United Nations University, 2001
A Drop of Mercy
The Water Cycle draws the attention of young inquisitive minds to one of the great blessings of Allah - Water which has numerous uses for us. It traces in a simple and easy-to-understand language scientific information, the journey of Water - how it originates and passes through several phases before it reaches us for meeting our needs. Fully illustrated in color, which helps children to follow the mystery and beauty of the water cycle.
Af: Shahbatun Abu Bakar,Nordin Endut, Azhari Zulkifli
ISBN:0860373835
Islamic Foundation (2004)
The Evolution of the Law and Politics of Water
Chapter3 of this book includes the fundamentals of sharia and water, the centrality of custom ('urf) to that relationship, the development of modern secular water codes in Muslim nations and their connection with sharia, reforms in the modern epoch, the ascendancy of Western law and its consequences, the continued relevance of sharia to water, and conclusions.
Af: Joseph W. Dellapenna and Joyeeta Gupta
ISBN:978-1-4020-9866-6
Springer Netherlands, 2009
Saudi Arabia: An Environmental Overview
Saudi Arabia is a country with a long tradition of environmental awareness and sensitivity, pitted against some of the harshest environments on earth. The book brings together a wide range of published and unpublished material of interest to environmental scientists, geologists, geographers and biologists. A comprehensive bibliography is included. This book is indispensable for university courses dealing with the Middle East and arid zone environments as well as various regional/environmental courses. Fully available at Google Books
Af: Peter Vincent
ISBN:978-0415413879
Taylor & Francis; (2008)
The Ethical Dimesion Of Human Attitude Towards Nature: A Muslim Perspective
The ethical dimension of human attitude towards nature is one of the most controversial problems of today as it was in the past. With a Muslim awareness of the moral and metaphysical dimensions present in environmental problems, Ibrahim Özdemir presents the consequences of the human-nature relationship and the way in which it is threatening not only to nature, but also to the very being of humankind.
Af: Ibrahim Özdemir
ISBN: 978-605-5949-00-6
Insan Publications, Turkey (2008)
Environmentalism In The Muslim World
This book provides an overview of how Muslim activists are responding on the ground to the global environmental crisis. This book offers chapters by leading Muslim environmentalists which survey environmental initiatives in Egypt, Turkey, Iran, Pakistan, Nigeria, and Malaysia. Issues are detailed pointing out both successes and failures and describing the unique challenges facing the world's very diverse Muslim societies in striving to balance development and social justice with preserving the integrity of the earth's life support systems.
Af: Richard C. Foltz
ISBN: 978-1594543869
Nova Science Publishers (2005)
Environmentalism in Turkey: Between Democracy and Development?
A mixture of theoretical discussion, political analyses and illustrative case studies, this volume provides a comprehensive analysis of the tension between environmental protection and economic development in Turkey. It identifies and analyses the forces underwriting the growth of environmental social movements, investigates the impacts on development and modernization, and evaluates the role played by environmental movements in the Turkish democratization process.
Af: Fikret Adaman (Editor), Murat Arsel
ISBN: 978-0754644477
Ashgate Publishing (2005)
The Book of Nature
From the Muslim perspective, Nature is the Book of God, open before us, from which there is much to learn. While themes from the Qur'an introduce each chapter, The Book of Nature also includes the wisdom of other faith traditions, as well as insights from individuals whose sensitivity to the natural world can assist in reawakening our own.
Selected & Edited by: Camille Helminski
ISBN: 9781904510154
The Book Foundation (2006)
Animal's Rights in Islam
This book is an effort to highlight the importance and treatment of wildlife according to Islamic injunctions. A common Muslim may not have the slightest idea that Islam strictly prohibits unnecessary loss of wildlife and there are many Ahadith of Prophet Muhammad (SAW) that highlight the conservation of this important aspect of nature.
Af: Fakhar-i-Abbas
ISBN: 978-3639160017
VDM Verlag Dr. Muller Aktiengesellschaft & Co. KG (2009)
Islam and Ecology
Each book in the "World Religions and Ecology" series deals with the teachings, beliefs, history and present-day attitudes and contribution of a particular faith to the environment. The books cover several areas: teachings and traditions, environmental practice and responding to the crisis. Under teachings and traditions the books look at core ideas and beliefs as found within the faith's main scriptures and traditional teachings.
Af: Fazlun Khalid og Joanne O'Brien
ISBN: 978-0304323777
Continuum International Publishing Group Ltd. (1992)